Tags :
cheaper power
,
clean energy
,
climate change
,
climate research
,
CO2
,
companies
,
congress
,
economy
,
emissions
,
energy
,
EV's
,
fossil fuels
,
gas
,
green energy
,
Mike Brune
,
mpg
,
oil
,
Paris
,
Paris Climate Conference
,
sierra club
,
Sierra Club Board of Directors
,
solar
,
solar energy
,
tipping point
,
utilities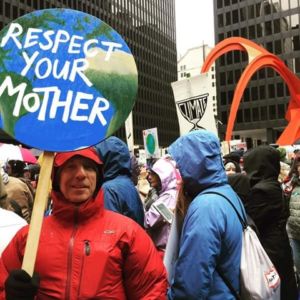 As you can see from the photo above, I marched in the Peoples Climate March yesterday in Chicago with 5000 others.  It was wet and cold but who cares when the fate of science and our planet are at stake.  
I know that most of those that read my blog agree with me that Climate Change is real and poses an existential threat to our civilization and society.  Nevertheless, I have a few friends that disagree.  I also have friends that simply don't pay attention to what is happening to our planet and/or what is being done by the current Administration to not only dismantle any government intervention to combat climate change but in the process are also annihilating every other program to protect our air, water and lands. 
In my recent posts I've tried to give you a few 
glimpses of what is being done to destroy all the laws and regulations that have been established since the first Earth Day in 1970 by both Republican and Democratic Presidents and Congresses.  When looked at in its entirety, which is actually impossible since the assault is so huge and widespread, it is breathtaking in its scope and breadth.  
To give you a small taste of the enormity of what has happened in a short 100 days of 
devastation, I have included the Executive Director of Sierra Club, Mike Brune's, blog below with a myriad of highlights (or better said, lowlights).  It speaks for itself.
I hope that regardless of how you feel about the climate you are appalled by the rest of this agenda and let your elected representatives know.  
But don't lose faith.  Not only do we have the power to resist this but understand that below the Federal level the real action will be at the local level.  And more and more communities and even corporations are already committing themselves to achieving a zero carbon future. 
April 25, 2017
So Many Reasons to March This Saturday
The 100th day of Donald Trump's presidency falls this Saturday (an occasion we'll be marking with a giant march of resistance), but pundits already are labeling him as a do-nothing failure. Given that his party also controls Congress, it's actually surprising how many of the goals Trump set during his campaign he has failed to achieve.
Unfortunately, there's one glaring exception. Trump and his administration have (with a lot of help from Congress) been relentless, ruthless, and shameless in attacking protections from pollution, exposing us to health threats, retreating from climate action, and renouncing science. Although many of these attacks can still be defeated, their scope is unprecedented.
Let's start with public lands and wildlife. That Trump would be different from any previous president was obvious on Day 1, when he picked a fight with the National Park Service over the attendance at his inauguration. From there, things just got worse:
For Secretary of the Interior, Trump chose Montana's Ryan Zinke, who likes to call himself a "Teddy Roosevelt Republican." As a U.S. representative, Zinke voted against the Endangered Species Act 21 out of 21 times and had a dismal three percent rating from the League of Conservation Voters.
Trump has signed a joint House/Senate resolution that targets wolves and bears in Alaskan national wildlife refuges. It repealed a rule that prohibited shooting or trapping wolves while in their dens with pups and killing bear cubs or mothers with cubs. Zinke's hero, Teddy Roosevelt, would have been disgusted.
Zinke also overturned a ban on lead ammunition and fishing tackle on public lands and waters, which will be a disaster for species like the endangered condor and the bald eagle that ingest toxic lead.
The Bureau of Land Management oversees some of the most stunningly beautiful places on the planet, but its website featured a photo of a coal seam on earlier this month-showing its new priorities. Zinke has lifted a federal moratorium on new coal leases and suspended a review of federal coal-leasing practices. And just last week, the Interior Department suspended a royalty-valuation rule intended to keep fossil fuel companies from robbing taxpayers and underpaying for coal, oil, and gas on our public lands.
Though Christmas is far away, Trump is already in Scrooge mode-proposing to slash $1.5 billion budget from the Interior Department budget (which includes the National Park Service).
During his campaign, one of Trump's favorite lines was: "We are going to work very, very hard on clean air and clean water." Good one, Donald! Here's what the golfer-in-chief has actually been doing.
In the areas of climate action and clean energy, the Trump administration has done its best to ineptly try to take us "full speed backwards," beginning with the release of an "America First" energy plan that ignores the incredible growth of clean, renewable energy while singing the praises of dirty fuels. Once again, things went downhill from there.
This is only a partial summary. The consequences for both people and the environment of Trump's proposed budget cuts and regulatory rollbacks are too numerous to list. The most important ones, though, can't be ignored: More people will get sick and more people will die. On the plus side, however, polluters will see greater profits, which should be some consolation for parents whose kids succumb to air pollution or lead poisoning.
That's all in fewer than 100 days-a truly extraordinary assault on our health, our climate, our public lands, and our future. If you're disgusted, that's to be expected. If you're angry, that's good. If you're discouraged, that's understandable. But what I haven't mentioned are all the ways the Sierra Club and others are fighting back against these attacks. Most of the actions listed above by Trump and his appointees can still be defeated , just as his attempts to enact a Muslim ban and repeal the Affordable Healthcare Act have been thwarted.
Millions of Americans are rising up. Trump's presidency has provoked an incredible uprising of organized resistance and solidarity, beginning with the Women's March that followed his inauguration. Since then, hundreds of thousands of people have taken to the streets, whether to oppose the Muslim travel ban, demand the release of Trump's tax returns, or defend basic science.
On Saturday, April 29, we'll add the Peoples Climate March to that chain. We want that date to be remembered not just as Trump's 100th day in office but also as the day we filled the streets in support for climate action, public health, and environmental justice.
Trump's presidency has been one disgrace after another. April 29 is our chance to channel our outrage into action. Join us!
Social Share